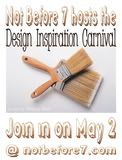 Mary
is hosting a design carnival, in which people can post pictures of their favorite designs, pictures, paint color, etc. in their home. I am not the most creative person out there, but we have been trying to update our living room a bit and have made some changes that I am pretty proud of. Eight years ago we moved into my the house my husband grew up in. It was outdated and had wood paneling in just about every single room. Therefore we have pretty much gone through every room and repainted and dry walled (it has the old lath board). We did that in the first few years of our marriage, however we never really decorated the walls. My hubby and I are pretty indecisive people and can't decide on what to put on the walls, hence we kept them blank. As of recently, I have been studying our rooms more closely and decided that we don't look fully moved in. So, we tackled the living room. The color isn't exactly what I love (neutral beige), but it works with the carpeting we have. So here are some of our recent updates:
New furniture. Actually, we are still waiting for the chairs, so the living room isn't completely done, but it's getting there.
Was this:
Now this (the tricky part being, to keep the dog off):



New wall hangings, where the wall was blank. We still want to put up a mirror and some shelves, but it's a big improvement.

And a valance on our bay window.

Was this:
Now this (I made the valance myself!):
It has been fun updating our room, and spicing things up a bit, but I am definitely glad that we are nearing the end, because I want to be outdoors to enjoy the warmer weather (although I guess I haven't missed much so far - seeing as though it's mostly been in the 50's this week). Have a great weekend everyone!